Our Ice Rake Bins are compact and efficient ice storage and discharge system. They can be customized and built to contain anywhere from 70-400 tons of ice capacity.
Model IRB 150-16 Ice Storage Bin
The ice bin has an internal storage of 150 ton capacity. Other sizes of the same model can range from 70 to 400 ton ice storage bins.
This system utilizes an inclined screw conveyor, ice batching scale and pneumatic blower.
Pipe extends underground 450 ft. (left) to packing plant. 150 ft. (lower right) to boat icing dock…with an outlet for trucking icing (curving pipe, bottom).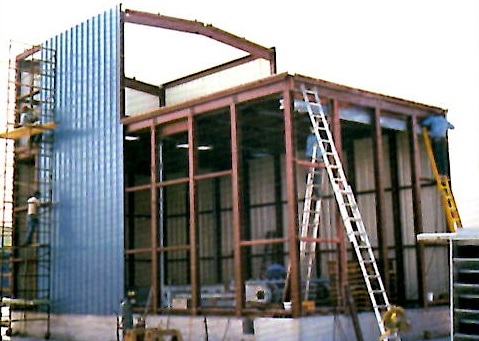 The SEMCO/SEMCOLD LLC bin and rake components are available as a kit for assembly by local contractor.
Galvanized steel exterior stairway and safety railing around the upper deck.
Self-Monitoring Auto. Ice Rake
Fabricated heavy girder side frames with flanges formed into an endless guide track for the rakes.

All rake parts hot-dipped galvanized.

Match marked parts for easy assembly.

Heavy duty rake carrier chains

Microprocessor controlled rake drive with protective circuitry.

Heavy duty rake drive with oil drip pan and guardrails.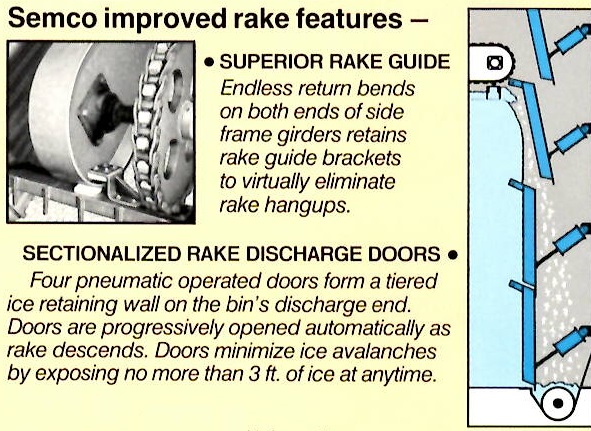 Our ice rake bins are designed to be efficient and dependable.
Request Information Or Quote