Arctic Rain Hydrochillers, are designed to be the most efficient and economical hydrocooling system available. The tunnel and chilling tank are totally insulated to limit thermal loss and increase cooling efficiency. Double end-wall curtains minimize hot air transfer.
Freon or ammonia refrigeration and a selection of conveying systems with variable speed drives are available.  Customize your unit to your particular produce cooling needs. Modular designs from 10-60 ft. lengths help reduce designs and fabrication costs.
High Efficiency Ammonia Hydrochiller
Ammonia batch cooler with extended 3-belt conveyor system and insulated cooling chamber.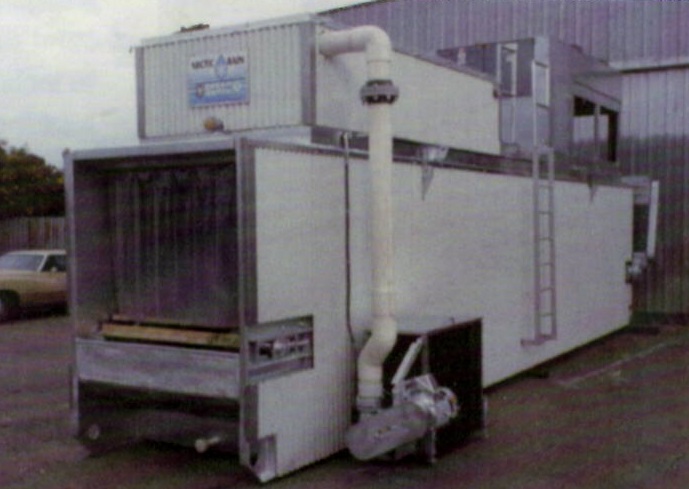 Includes fir slat conveyor system for bulk product or field bins.
Hydrochiller with "intralox" plastic conveyor system for open boxes or bulk fruit.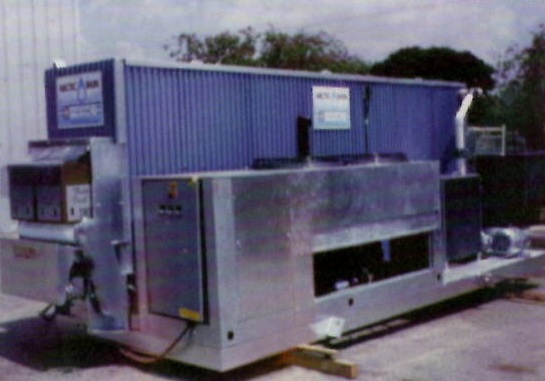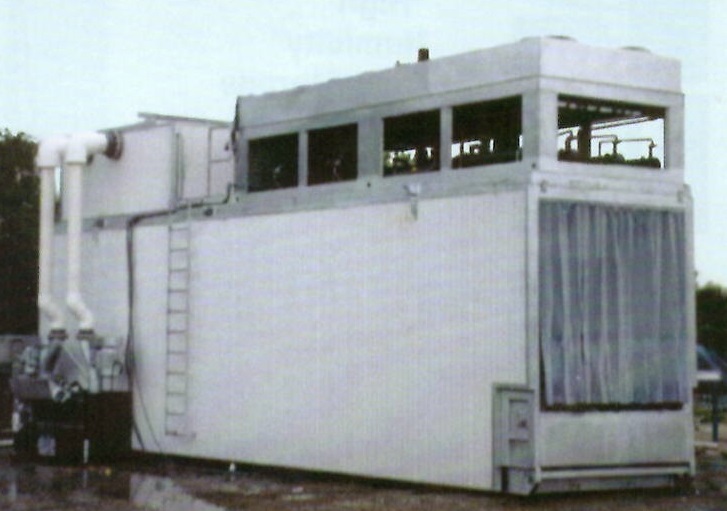 40 ft tunnel with four individual cooling circuits for pallets or stacked field bins.
Heavy duty skid frames and built in lifting hooks allow easy transport and installation.
A hydrochiller can be designed to be pulled by an appropriate vehicle.
Totally insulated to minimize thermal loss and increase cooling efficiency.

Unique counter flow refrigeration coils.

Galvanized structure for long life.

Semiautomatic controls maintain water temperatures near or at 33 F with automatic shut-off in case of malfunction before any damage can occur.

Double end-wall curtains minimize hot air transfer.

Custom designed Freon or ammonia refrigeration.

Modular design from 10-60 foot lengths.

Skid mounted to maintain integrity when moving. Mobile systems available.

Customized conveying systems with variable speed drive.

Many more features built in, call for details.
Tell us what type of produce you'll be running and what type of containers you'll be using. We'll recommend the best conveying system, from galvanized wire chain, PVC mesh belt or water resistant slats for bulk produce to galvanized chains for running crates, bins or pallets.
Any method you choose will be powered by a drive system designed specifically for it. Variable speed drive systems are available to select exactly the cooling time required for the produce you'll be chilling.
Request Information Or Quote